Hello Everyone,
Today morning I am back with 2 cards: both using a technique called in-laid die cutting, and gorgeous products from MFT. I am having so much fun on the Online Card Classes Rainbow maker and the MFT Camp create just started too. So I tried to combine the homework from both. Here is my first card:
I started with a piece of printer paper and made the guide using the dies I selected for this card. I die cut everything as I planned it in my head and when I was happy with the design, I used this guide to help me line up the die on real, white cardstock.
I also die cut the elements using coloured cardstock scraps (it is a great way to use up those leftovers) and glitter paper. I used the Bottlecap letters to cut the letters from the middle of each balloon, and cut them again from silver glitter paper.
I also white heat embossed a sentiment from the MFT Essential sentiments stamp set on a very thin strip of black cardstock.
To assemble the card I used a big piece of double sided adhesive (Sookwang) which is in my stash forever and is perfect for techniques like this. I adhered the tape to an A2 sized card base, placed the white negative piece on top and simple added the colourful pieces like a puzzle. I find this very relaxing.
After the card was all together, I used a Copic Multiliner 0,3 marker and a T-square ruler to draw some balloon strings.
I will upload this card as the homework for the OOC Day 3 Rainbow die cutting, and also as a project for MFT Camp Create Day 1: Inlaid made easy.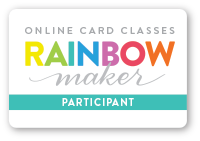 I hope you like my card and will return soon to see the next one.
Have a great day,
Zsofi