Hello Everyone,
I am thrilled to be part of a wonderful collaboration Blog Hop with two of my favourite companies. Heffy Doodle and Studio Katia have teamed up to bring you a ton of new inspiration. And there are prizes to win! YAY!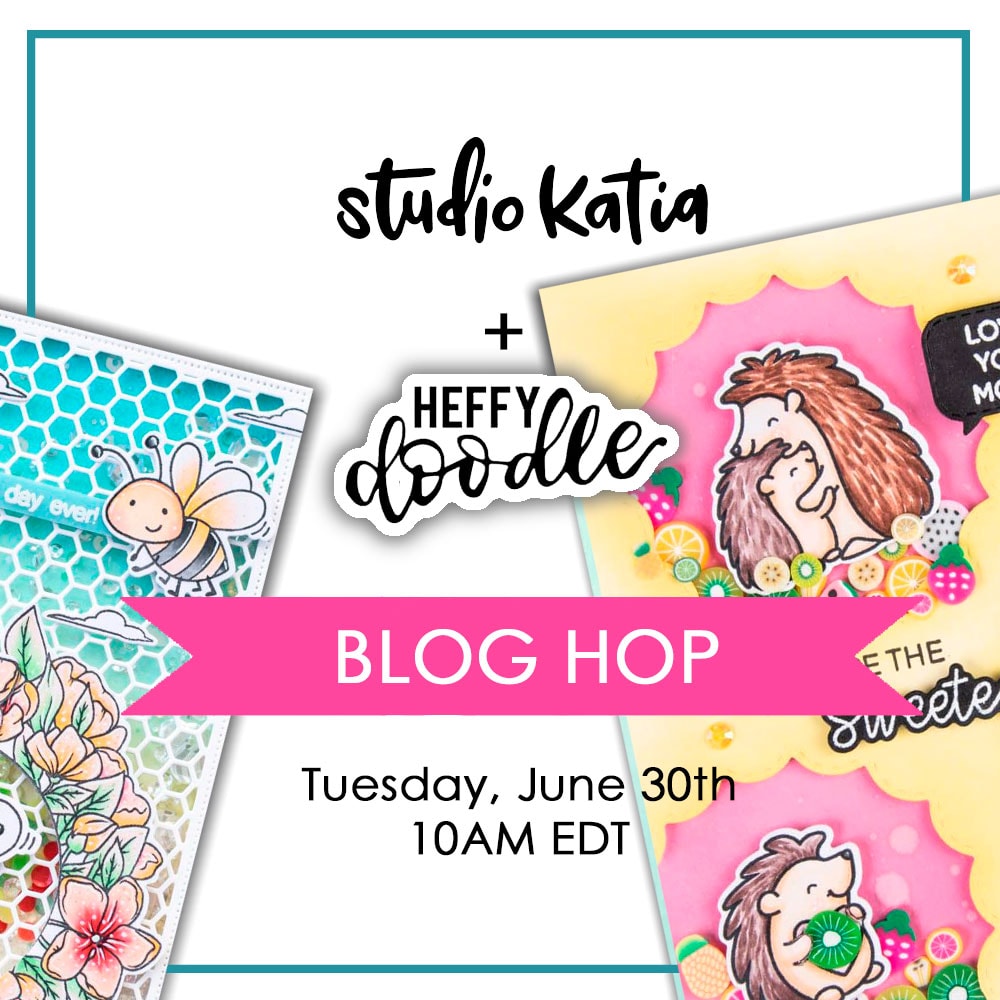 I have 2 birthday cards for you today, let's dive in the details!
CARD 1
As always I started with stamping and colouring the crocodile from the Happy Snappy Crocs from Heffy Doodle using Copic markers and cut it out with the coordinating die.
I used the Dotted Shaker Tag 2 die from Studio Katia to cut an aqua, yellow and a pink tag. From the yellow one I cut the grass with a Grassy Lass border die from Heffy Doodle. While I was at die cutting I also cut a piece of vellum using the rectangle from Studio Katia Dotted Patterns Set 1.
For the background I chose a dotted patterned paper from Doodlebug Designs and matted it with hot pink cardstock. I assembled the tag as on the picture, used a white eyelet for the top and added green twine to it. I popped up the croc with 3D foam squares and stamped a small sentiment on the very top of the tag from the same stamp set.
The rest of the sentiment I white heat embossed on black cardstock and cut them down to very narrow strips which I adhered hanging off the tag.
I finished the card with a sprinkle of Rainbow Dots Glitter from Studio Katia. It makes it so festive and matches the patterned paper too!
CARD 2
On my second card I went underwater 🙂 I stamped and coloured images from the Heffy Doodle Shellabrate and Oceans of Love sets and used their coordinating dies to cut them out.
I applied Blueprint Sketch and Salty Ocean Distress Oxide inks with a light hand on Bristol Smooth cardstock. Then I used the same coloured just over the Wave to me stencil. I repeated the process after shifting the stencil a bit. This way I got the perfect wavy background which I sprinkled with pearlized water for more texture.
I used the Seashell shaker die from Studio Katia to cut into the background and I also cut another one from blue violet cardstock for the thin frame. I adhered a piece of acetate on the back of the panel to create a shaker window.
I also die cut sand with the Heffy Doodle Stitched Slopey Joes dies and added Antique Linen and Gathered Twigs Distress Oxide inks with a blending brush. I splattered the sand dune with diluted inks and white acrylic paint so it really looks like sand! I stamped a sentiment on the bottom of it from Shellabrate. The rest of the sentiment is from Oceans of Love which I white heat embossed in black cardstock and cut them into very thin strips.
I assembled the scene and added 3D foam strips to the back of it. On a white notecard I sponged a little Salty Ocean Distress Oxide and added some Chunky Dots Glitter and July Crystals and Poseidon Crystals from Studio Katia for the shaker part.
After the shaker was ready I used the same jewels to embellish the front of the card too. I also added glossy accents to the turtles and the starfish and used a black glaze pen on their eyes.
GIVEAWAY
Heffy Doodle will be giving away a 25£ CG and Studio Katia a 25$ CG to their stores. Winners will be chosen randomly and announced on July 7th on the Heffy Doodle and Studio Katia blogs. Make sure to comment on each stop in the hop to be entered to win! Here is the full list:
Zsofia Molnar – you are here
I hope you enjoyed this wonderful hop and got inspired! If you like my cards please subscribe to my blog and follow me on Instagram to make sure you will not miss any project I share! Thank you!
See you soon,
Zsofi